Temiskaming Transit Significant Weather Event Route in effect!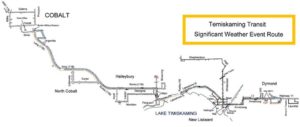 ** Attention Transit Users**
Effective immediately Temiskaming Transit will be using the following alternate route.
The route will allow for flag stops throughout the entire route with the exception of Main Street hill in Haileybury. The route will start on the hour every, hour at Walmart & White Mountain Publications.
The public will be notified in advance when the alternate route is implemented. Please note the alternate route eliminates any side streets as well as service to the Temiskaming Hospital.
Once the Significant weather event has been lifted, we will notify the public and transit will resume to the normal route and regular service schedules.
Categories:
Latest News